Other World Computing (OWC) announced some new products today at CES 2021. OWC Envoy Pro FX, OWC Thunderbolt Dock, OWC USB-C Travel Dock E, and OWC U2 Shuttle. Utilizing over 35 years of experience in consumer technology, OWC has created the perfect products for homeschooling, WFH, prosumers, and M&E professionals for Q1 2021.
The OWC Thunderbolt Dock you can now have four Thunderbolt ports, plus four USB ports, as well as a port for your SD Card, Gigabit Ethernet, and a combo audio in/out. You gain convenient access for all of your essential Thunderbolt and USB devices all through a single cable to your Mac or PC. Utilizing the latest Thunderbolt technology, the OWC Thunderbolt Dock enables users with Intel 11th Gen Core and Evo PCs with Thunderbolt 4, existing Macs or new M1 based Macs to add a mix of ports, including additional Thunderbolt ports. OWC Thunderbolt 3 docks without the Thunderbolt hub are compatible with OS 10.12 or later. Our Thunderbolt 4 based docks will continue to work great with our existing Thunderbolt 3 solutions such as storage, adapters, and more.
OWC Envoy Pro FX

The OWC Envoy Pro FX is the fastest, most compatible portable drive ever made that works with yesterday's, today's, and tomorrow's Thunderbolt and USB computers and devices. It supports the max performance capability of any interface up to 2800MB/s and is dust/drop/waterproof for transferring gigabytes of data in seconds anywhere. The sleek, cool-running aluminum storage solution with drive status LED operates silently without a power adapter. With its included Thunderbolt/USB cable, the Envoy Pro FX is ideal for audio, video, photography, graphics, gaming, and general data storage/backup uses with all Macs and PCs made since 2010 as well as iPad Pro, Chromebook, and Surface devices.

The OWC USB-C Travel Dock E reduces the hassle of adapter and dongle heft while expanding your connectivity options with six essential ports: USB 3 Type-A, HDMI 2.0, SD card reader, Gigabit Ethernet, and USB-C power pass-through. Through its integrated USB-C connecting cable, the compact Travel Dock E lets you transform any location, be it a studio, classroom, boardroom, or coffee shop –– into a mobile office. The OWC Travel Dock E gives you the ability to connect, charge, display, and import at will with USB-C or Thunderbolt 3-equipped computers, tablets, and phones.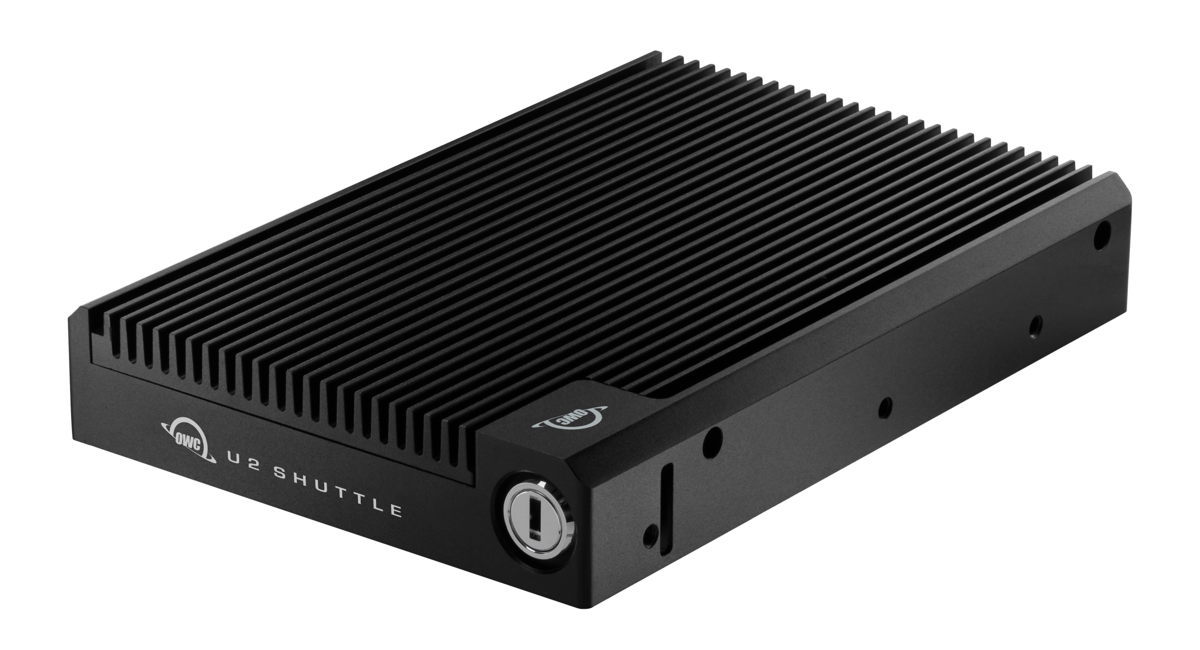 The U2 Shuttle is everything you've wanted from a multiple-blade SSD but couldn't get until now. It's the world's first U.2 carrier shuttle for 3.5″ drive bays that combines four NVMe M.2 SSDs into a swappable massive capacity flexible RAID ready storage solution. Now you can harness the power of RAID 0, 1, 4, 5, or 10 via your choice of RAID utilities, including SoftRAID, and choose your maximum volume capacity, optimum drive performance, and data protection or a combination of attributes. It's ideal for anyone who needs to safely store and backup massive amounts of data, including video editors, audio producers, photographers, and graphic designers.
"We are proud to announce these highly unique products at CES 2021," said Larry O'Connor. "OWC offers a wide range of technology users, from students to road-warrior business professionals, creative pros working on the latest blockbuster movie. Look to us to provide them with storage and connectivity solutions that let them do more, and we feel this is a great showcase of our commitment to them."
The Envoy Pro FX, Thunderbolt Dock, USB-C Travel Dock E, and U2 Shuttle will be available in January 2021 through MacSales.com.